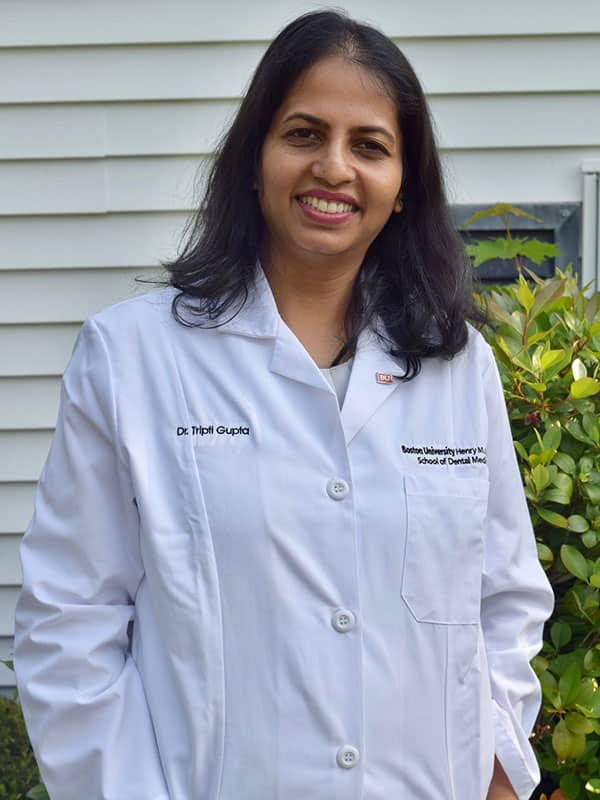 Dr. Tripti Gupta was born and raised in India. She graduated with a Bachelor of Dental Surgery from India in 2005 and has been involved in dentistry since then. She moved to Boston and pursued her Doctor of Dental Medicine at Boston University Henry M. Goldman School of Dental Medicine, where she graduated with High Honors in 2017.
Dr. Gupta specializes in both General and Cosmetic Dentistry. She fully embraces the old-fashioned dedication to patient comfort while keeping herself apprised of the latest technology and continuing education. She brings in an evidence-based treatment approach and believes in educating her patients, so they know their options and make an informed decision for their oral health. She has volunteered for Boston Care, Boston University, and Vaccine Corps during the COVID pandemic - something that is very fulfilling for her. Her warm and caring personality makes people feel at ease in the dental chair.
She and her husband have two daughters with whom she likes spending her time. In her free time, she enjoys gardening and spending time outdoors.
She is a member of the American Dental Association, Massachusetts Dental Association, Middlesex Dental Society, and Academy of General Dentistry.  
Looking for a practice in the Chelmsford area? Contact us at
978-251-7000
to schedule an appointment today!